Smokey Cauliflower Steaks
Posted on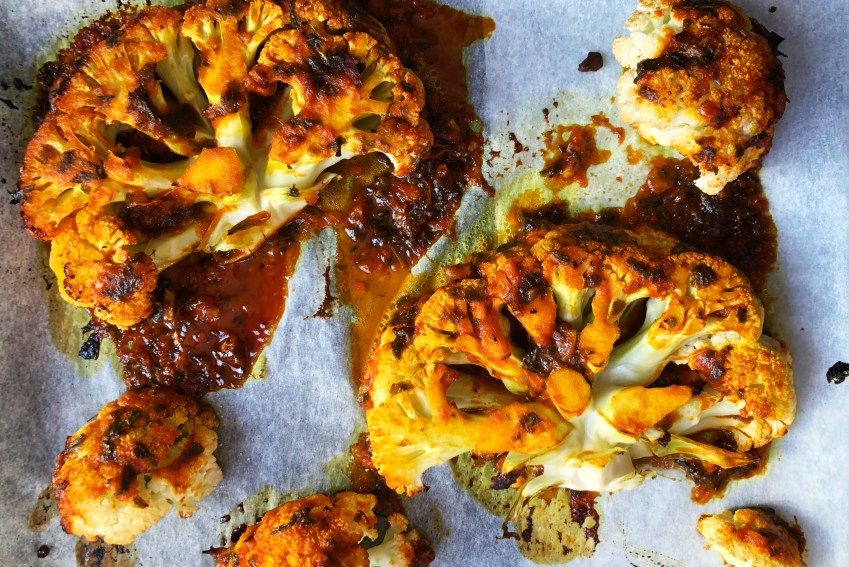 I came up with this idea after about a week of eating the same old boring meals of just throwing together something quickly without putting in any thought. I really needed to try something diffferent. These cauliflower steaks are relatively simple to make, and chances are you've probably got most the ingredients sat in your cupboard right now.
One cauliflower will make 2 steaks and a few extra florets, so you'll need to adjust the recipe accordingly for how many you need.
Recipe
Servings: 2
Prep Time: 10 minutes
Total time: 40 minutes
Ingredients
1 Cauliflower
2 Tbsp Oil (+1 for frying)
Juice of half a Lime
1 tsp Smoked Paprika
1/4 tsp Chilli Powder
1 tsp Cumin Powder
1 Clove Garlic
1 inch piece of Ginger, peeled
1 tsp Dried Mixed Herbs
Salt and Pepper
Method
Remove the leaves from the cauliflower but leave the stalk, this will hold the steaks together when you're cooking them. Cut the cauliflower in half and then, making your steaks about 1 inch thick, cut the steaks from the centre side of each half. You'll get 2 steaks and some leftover florets that you can cook too!

Grate your ginger on a fine grater and crush your garlic, then in a small bowl mix them together with all your other ingredients.


Using a brush, coat both sides of your steaks in the marinade and then lay on a papered baking tray. You can use any leftover marinade for the spare florets.


Foil the tray and bake for 15 minutes at 180c, the remove the foil and bake for a further 10 minutes, turning halfway through.


Heat a pan with 1 tablespoon of oil and then fry your steaks for a couple of minutes on each side, watching they dont burn.


Serve with your choice of accompaniments!