White Chocolate Chia 'Free-From' Blondies
Posted on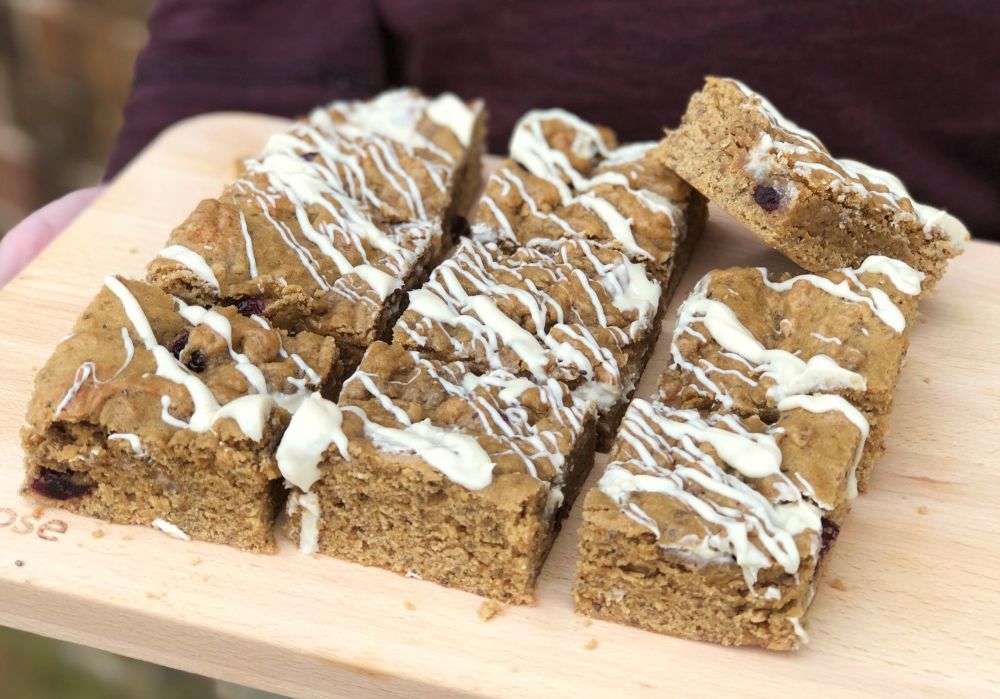 I remember the first time I tried to make blondies… utter disaster. "Blondies? More like Burnties"
Well a few years later, here I am and I've tried it again. The only difference being that this time it worked.
If you love gooey, delicious, chewy sweet treats - then this Blondie recipe is for you.
Typically Blondies are made with eggs. We're obviously going to substitute this and so, we will be using chia seeds as our egg replacement. I won't go as far as to say this recipe is healthy but swapping out eggs for chia seeds is 100x better for you as there is no cholesterol and chia seeds come with a whole host of nutritional benefits.
So if you want an excuse to indulge without feeling bad, be sure to tell your friends about this "highly nutritious" alternative.
Anyways, here's the recipe for you:
---
Recipe
Yield: 9 (but I cut them huge)
Total Time: 45M
Ingredients:
1 cup / 250g dairy free spread

1 ¼ / 255g cup brown sugar

½ cup / 115g caster sugar

3 tbsps chia seeds

2 tsps vanilla

2 ½ / 375g cups all-purpose flour

2 tsps cornflour

½ tsp bicarbonate of soda

1 tsp salt

150g free-from white chocolate

½ cup / 90g dried cranberries
Method:
Preheat your oven to 180C / 350F and line a 9" x 9" pan with baking paper

Mix your chia seeds with 9 tablespoons of water and leave to sit for a few minutes, it will form a gel-like substance.
Melt your dairy free spread by microwaving for about 30 seconds and then combine with your sugar. Add in your chia mix and vanilla extract and mix well.

In a separate bowl, mix together your flour, baking powder, cornflour and salt. Gradually stir your dry mix into the wet mix until completely combined.

Break up your white chocolate into small pieces and then fold this into your mix with your cranberries.

Spread your Blondie batter into your lined baking tray and bake for 25 - 30 minutes. You can test to see when it is done by stabbing the center with a toothpick to see if it comes out clean, but be careful not to stab a piece of chocolate as that can be deceiving!
---
Amy loves brownies… but I'm definitely on #TeamBlondie. They are so gooey and delicious. White chocolate has always been my preference and when you consider how well fruit flavours compliment this recipe, it has to be a winner.
You can find Amy's brownie recipe here. Whose team are you on? #TeamBrownie or #TeamBlondie? Let us know in the comments below.
Don't forget, you can share all your foodie makes with us on the hashtag #HBivore
Follow us on Facebook and like us on Instagram to keep up to date with our latest recipes, news and content. You can also use the form below to receive all our news straight to your inbox each week.
livepages::jquery(); ?>