Sun-Dried Tomato and Thyme Share Bread Recipe
Posted on

Sun Dried Tomato and Thyme Share Bread
I'll be honest with you, I did not expect this share bread to turn out as well as it did. As soon as I took it out the oven, I knew I had to do the recipe for this sun-dried tomato and thyme share bread.
Even as I'm sat writing this, I have a piece of it to the side of me to nibble on!
Bread is a great staple food and has been since it was first created in Egypt in 300 BC, and It's believed that bread was first created as the result of some floating yeast landing in a bowl of thick gruel.
Luckily for my recipe, you don't need any thick gruel. Instead, this flavoursome share bread is soft and delicious.
The flavours are completely interchangeable, I opted for the fairly simple flavour choice of sun-dried tomato and thyme, but you could easily adapt this recipe for a walnut or a garlic bread by simply adding those to the mix that you spread over before you roll the dough.
I used a fancy 'tear and share' bread baking dish, but you don't need it to do this recipe. Simply lay your bread out on a papered baking tray positioned close together and you'll get a similar result.
Recipe
Servings: 6
Total Time: 1H 25M
Ingredients:
2 cups (250g) Plain Flour (+ extra)
1/4 cup Olive Oil
1/2 cup (30g) Sun Dried Tomatoes
1/2 tsp Salt and Pepper
4 tsp Fresh Thyme
1 tsp Sugar
2 & 1/2 tsp Instant Dry Yeast
1 tsp Salt
1 & 1/4 cups Lukewarm Water
Method:
STEP 1:

Place your water in a bowl, and sprinkle your yeast and 1/2 teaspoon salt on top. Leave for five minutes, then stir and leave for a further five minutes.



STEP 2:

In a mixing bowl, with your dough hook attachment, combine your water mix, sugar, 2 tsp of chopped thyme and 2 cups of your plain flour. This mix will be very sticky and loose, don't worry!



STEP 3:

On a large, clean surface, sprinkle a good amount of flour, and then tip your dough mix on top, and begin to work the extra flour in. You'll need to keep adding more flour to stop it sticking to the work surface. You want to keep doing this until it forms a ball of dough, that is slightly sticky. Then knead for another 3-4 minutes. Place your dough into an oiled bowl, and then turn over, so the whole dough is coated with oil. Cling film and leave your dough in a warm place for 20 minutes.



STEP 4:

While you're waiting for your dough, chop your sun-dried tomatoes and remaining thyme. Then add to 1 tbsp of oil and season with salt and pepper. (If you're using different ingredients, just use the same method with them).



STEP 5:

On a large baking tray, add a layer of oil and using your hands spread until it forms a thin layer on the tray. Add your dough (after the 20 minutes) and using oiled fingers, push the dough until it forms a large square.



STEP 6:

Spread your filling mix on top evenly (this is what you just chopped up).



STEP 7:

Starting from the longer side, roll your dough up!



STEP 8:

Cut your dough into 7 evenly sized pieces, and either place them into your 'tear and share' baking dish or place them on a papered baking tray in the same pattern. Cover with a clean cloth and leave to rise for about 45 minutes or until they've doubled in size. At this point, preheat your oven to 200c.



STEP 9:

Bake for 15-20 minutes, until golden brown and crisp to the touch. Remove from the oven and allow to cool for a few minutes, then remove from the dish and enjoy warm.
How did it go?
Perhaps this isn't one of our easier recipes, but it is incredibly rewarding when you get it right!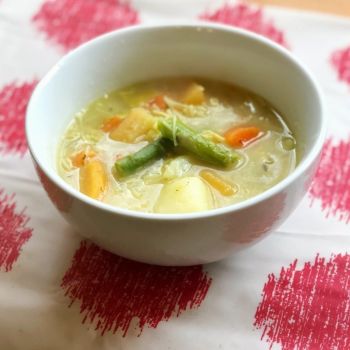 What did you put in with your bread mix? Do you have any nifty tricks for this recipe? We'd love to hear your thoughts in the comments below!
Of course, if you did just want to make plain, soft bread. I bet it would go great with one of our soup recipes!