Beet Wellington with a Red Wine & Mushroom Jus
Posted on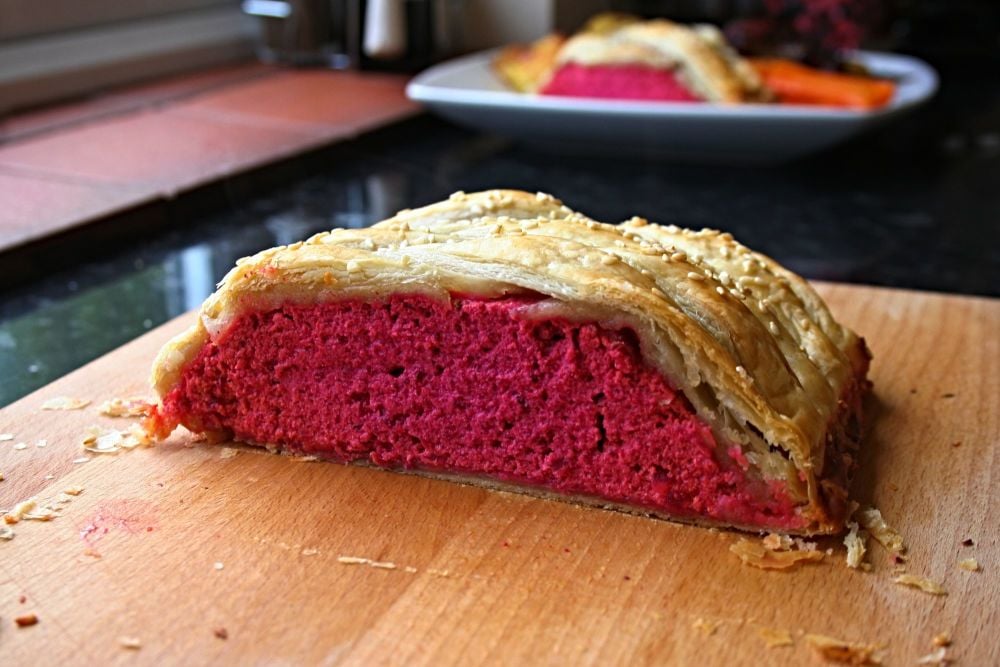 Beet Wellington with a Red Wine & Mushroom Jus
Deciding on the perfect main course for a big event or Sunday roast can be difficult. While nut roast seems to be the go-to for many vegans across the world, the wellington is making a name for itself as the new kid on the block.
There's so much you can do with it and pretty limitless flavour options too. It's perfect for feeding the whole family and can even be made, frozen and then just defrosted and cooked.
If you're looking for a bit of a showstopper main course then this is the ideal option for you. The lattice design of the pastry over the top makes for a brilliant eye catching centerpiece, and the bold rich sauce served alongside makes this an extra special option.
My recipe asks for toasted walnuts, but if you're not sure how to toast walnuts, it's super easy! Just heat an empty, non oiled frying pan on a medium to high heat. Chuck in your walnuts and dry fry them for a few minutes, shaking the pan regularly to ensure they toast evenly and don't burn. Then just tip them out into a bowl.
When it comes to making your sauce, you can omit the mushrooms if you aren't a big fan. One key thing to note is that when you add your cornflour, it must be fully dissolved into the cold water. Adding cornflour to any hot sauce without first mixing it with water will cause your sauce to go lumpy beyond repair.
If you add your cornflour and still feel as though you want your jus slightly thicker, you can add more corn flour but make sure you also mix it with cold water first. Alternatively, if your jus goes a bit too thick, simply water it down with some freshly boiled water.
If you're stuck on what to serve your wellington with, our best ever roast potato recipe could be just what you need. Create the best ever roast by combining the wellington, roasties and red wine & mushroom jus with fresh organic market vegetables too.
Make sure you let us know how you get on in the comments below, and as always we love to see your makes on instagram and facebook, so be sure to tag us!
Keep up to date with our latest recipes and lifestyle blogs by signing up to our mailing list at the bottom of the page, as well as liking us on facebook and following us on instagram!
---
Recipe
Yield: 8 portions
Total Time: 60 minutes
Ingredients:
For the Wellington:
2 tbsp olive oil

4 shallots, finely diced

2 garlic cloves, crushed

2 sprigs rosemary, chopped

¾ cup / 75g toasted walnuts

1 large beetroot, cooked (ideally baked, but boiled will do)

1 pack extra firm tofu

1 tsp smoked paprika

1 tbsp nutritional yeast

1 tbsp balsamic vinegar

1 tsp liquid smoke

1 tbsp syrup

Salt and pepper

2 tbsp flour (gluten free if needed)

1 tbsp plant milk

1 sheet vegan puff pastry (I used Jus Rol)

Sesame seeds, to top
For the Jus:
1 tbsp olive oil

3 shallots, sliced

2 cups / 200g mushrooms, sliced

½ tsp salt

1 cup / 230ml vegan red wine (check Barnivore if in doubt)

2 cups veg broth

2 tbsp cornflour mixed with 2 tbsp cold water

3 sprigs rosemary
Method:
Preheat your oven to 180c and line a large baking tray with parchment. Heat your 2 tbsp olive oil in a large pan, add in your diced shallots and fry on a low heat for a few minutes until translucent. Add your garlic and rosemary and allow to fry for another few minutes to really release all those flavours. Set to one side to cool.

Place your toasted walnuts into a food processor and process until fine, take them out and pop them into a little bowl.

Add your beetroot into your empty food processor (don't worry about washing it between your walnuts and beetroot) and process until shredded. Add in your drained tofu, fried onion and garlic, smoked paprika, vinegar, syrup, liquid smoke and some salt and pepper. Process until it's all combined.

Transfer into a large bowl and fold in your flour and walnuts. Once combined, tip your mixture onto your lined baking tray and begin forming into a compact log, about 16cm long.

Bake this for 30 minutes and then remove from the oven and allow to cool.

While your beetroot log is cooling, remove your puff pastry from the fridge to bring it up to room temperature and then begin preparing your sauce by pouring your olive oil into a large skillet and heating over a medium heat.

Add your shallots and mushrooms and fry off until your mushrooms are browned and your shallots begin to caramelize.

Sprinkle over your salt and then add in your red wine slowly, using a spoon to scrape down the sides to gather together any brown bits of glaze that form.

Once all your wine is added, bring it up to a simmer and add in your veggie broth. Allow to simmer for about 5 minutes, then add in your cornflour mixture, whisking immediately to ensure your sauce thickens evenly.

Add in your rosemary and allow to simmer for 10 minutes. You can strain your sauce if you'd prefer a smooth sauce. Once ready, place your jus to one side and simply pop back on the stove on a low heat about 10 minutes before you are ready to serve to heat through again.

Turn your oven up to 220c and line another baking tray with parchment. I like to unroll my pastry onto my baking parchment at this point so i don't have to try to move my wellington once assembled.

Place your beetroot log into the centre of your pastry, and using a small knife make a series of 2.5cm incisions at an angle on the pastry on both sides of your beet log.

Fold the flaps of pastry at either end of your pastry up over the short ends of your wellington, and then begin braiding the strips over the top, alternating sides.

Brush your wellington pastry with plant milk (this will help it brown) and then sprinkle with sesame seeds.

Bake for about 35 minutes, until the pastry is golden brown. Serve with your red wine jus and your favourite roast accompaniments.
---
What did you think of this recipe? Did you do anything differently? We'd love to hear from you in the comments below. Don't forget that you can share all your foodie makes with us using the hashtag #HBivore.
Follow us on Facebook and like us on Instagram to keep up to date with our latest recipes, news and content. You can also use the form below to receive all our news and free recipes straight to your inbox!
livepages::jquery(); ?>