Chunky Minestrone Soup
Posted on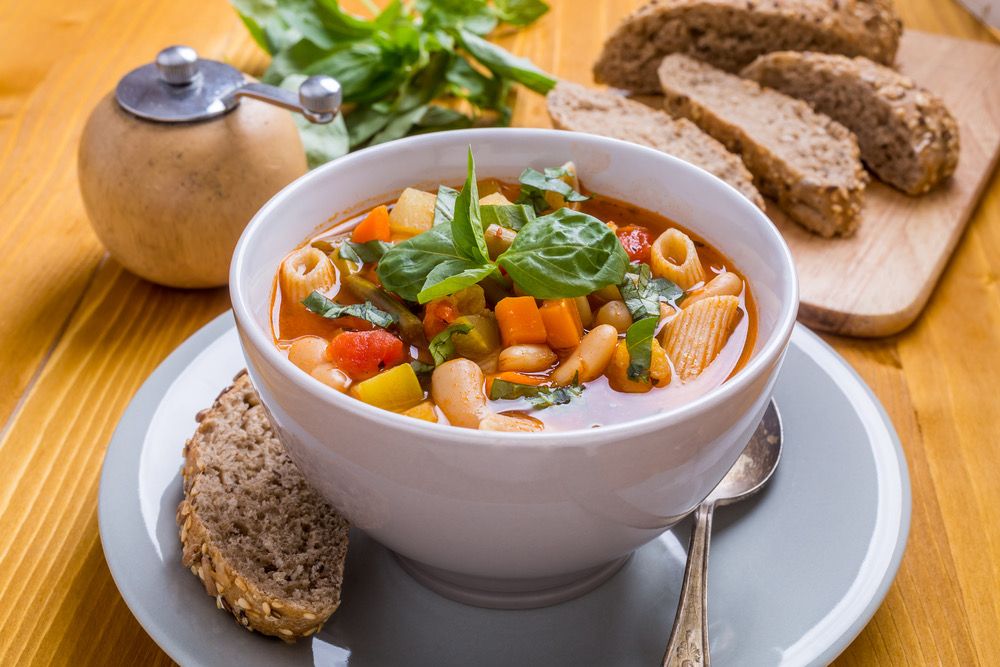 Chunky Minestrone Soup
I always find that soups are a bit of an underrated part of society, often seen as a starter instead of the main event. I love soups, which you can probably tell from my vast array of soup recipes such as:
And now of course the humble minestrone. What I love about minestrone soup is that it features two of my favourite things in one: soup and pasta!
As always, I don't like to limit the imagination to traditions, but if you want a traditional minestrone soup you could use orecchiette pasta. I generally just use whatever small pasta shape i have around at the time.
What truly makes minestrone the heartiest of soups isn't just the pasta, but also that it's packed full of vegetables and beans, all of which provide a long lasting fuel to your body as well as being packed full of protein and nutrients.
When you're preparing your ingredients, think about what size you want your vegetables chopped to. This soup doesn't get blitzed with a blender, so the size you chop them in the size they'll stay! There's no right or wrong answer to this, and its all down to personal preference. Remember that smaller vegetable pieces won't take as long to cook, and larger pieces may need longer, so whichever size you choose you should try to be consistent!
---
Recipe
Yield: 4 Portions
Total Time: 1 Hour
Ingredients:
2 tbsp olive oil

2 cloves garlic, crushed

1 large potato, peeled and roughly chopped

1 small swede, peeled and roughly chopped

2 medium carrots, peeled and roughly chopped

3 stalks celery, chopped

1 large leek, trimmed and sliced

½ tsp dried oregano

½ tsp dried thyme

2 bay leaves

1 litre vegetable stock

1 x 400g tin chopped tomatoes

150g pasta (any shape and size is fine!)

1 tin cannellini beans

1 large handful of greens (savoy cabbage, kale or spring greens will do nicely), thinly sliced

4tbsp tomato paste
Fresh crusty bread (to serve)
Method:
Heat 2 tbsp of olive oil in a large saucepan, then add your garlic, potato, swede, carrot, celery and leek and cook for about 10 minutes on a medium heat, stirring regularly.

Add in your oregano, bay leaves, thyme and tomato paste and stir in, cook for another 5 minutes.

Add your tinned tomatoes and veg stock, then gently bring up to a simmer and leave to cook for about 20-30 minutes, until your veggies are almost cooked.

Add your greens and pasta, bring to the boil and then reduce to a simmer and allow to cook for as long as your pasta needs, feel free to add some more boiling water if you need to thin your soup down a bit.

Pick out your bay leaves, then season to taste with sea salt and cracked black pepper and serve with some fresh crusty bread.
---
What did you think of this recipe? Did you do anything differently? We'd love to hear from you in the comments below. Don't forget that you can share all your foodie makes with us using the hashtag #HBivore.
Follow us on Facebook and like us on Instagram to keep up to date with our latest recipes, news and content. You can also use the form below to receive all our news straight to your inbox each week.
livepages::jquery(); ?>