Pea & Lime Risotto
Posted on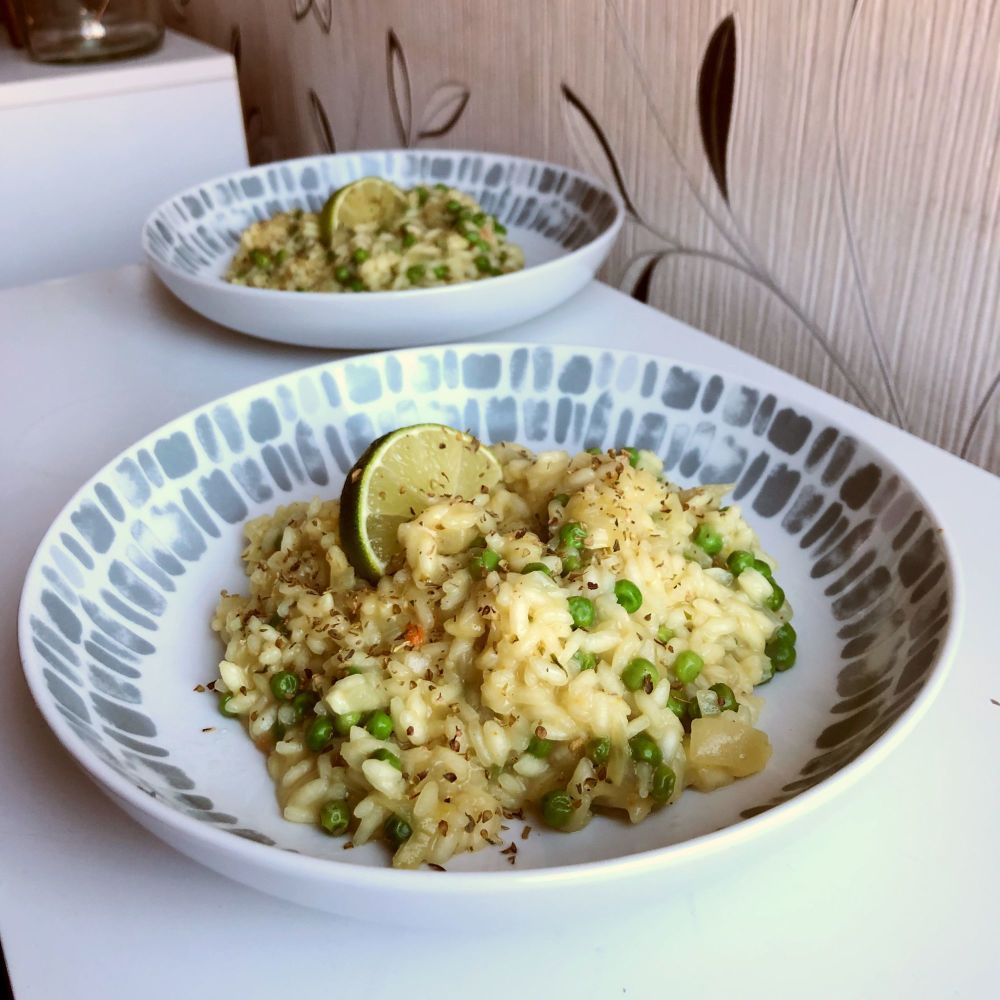 Lime & Pea Risotto
This recipe is so budget friendly you won't even notice the ingredients have gone from your pantry!
It's quick and easy and also a nice balanced meal. Feel free to add in some other cooked veggies if your heart desires, but I thought I'd leave this nice and basic so it's accessible for everyone.
Some ideas of other veggies that would go great include:
Babycorn

Asparagus

Sweetcorn

Tenderstem Broccoli

Mushrooms

Artichoke
This recipe calls for veg stock, which can be made simply by mixing a stock cube with boiling water. Read the stock cube packet so you know how many you need to use for 600ml of water.
I based this recipe on two people, as that's generally the amount I'm cooking for. If you're on your own you can always make two portions and then pop one in the fridge once cooled for an even easier meal the next day!
If you wanted to spice this up a bit, some fresh tarragon or oregano stirred through will add an extra depth of flavour, but I find the freshness of the lime is fine as it is so certainly don't feel like you're missing out!
Make sure you let us know in the comments below how yours turned out and if you did anything differently. Also remember to tag us in your foodie makes on instagram!
---
Recipe
Yield: 2 portions
Total Time: 35 minutes
Ingredients:
2 tbsp vegan margarine

½ white onion, finely diced

1 garlic clove, crushed

140g risotto rice

2 ½ cups / 600ml vegetable stock

½ cup / 75g frozen peas

Juice of half a lime
Method:
Melt your margarine in a pan and gently fry off your onion and garlic for a few minutes until soft. Add in your risotto rice.

Add your stock one ladle at a time, allowing the previous ladles worth to be absorbed before adding the next. Continue this until it's all used up, stirring occasionally.

Stir in your peas and lime juice, allow to cook for 2-3 minutes until the peas are cooked.

Serve topped with a lime wedge!
---
What did you think of this recipe? Did you do anything differently? We'd love to hear from you in the comments below. Don't forget that you can share all your foodie makes with us using the hashtag #HBivore.
Follow us on Facebook and like us on Instagram to keep up to date with our latest recipes, news and content. You can also use the form below to receive all our news straight to your inbox each week.
livepages::jquery(); ?>