9 Reasons to Support Vegan Small Businesses Right Now
In a world where veganism is now being seen as a profitable business venture, many large supermarkets, clothes retailers, cafes and fast food brands are jumping on the bandwagon at the hope of making a pretty penny off the new changing market.
Whilst I wholeheartedly support these businesses in providing more vegan options, making it easier than ever to become vegan, it is proving to be detrimental to small vegan businesses who previously flourished off their niche market.
There are hundreds of reasons to shop with small businesses, and a hundred more that apply to vegan small businesses, but I've outlined some of the key reasons to support small plant based companies.
They're in it for The Right Reasons
Small vegan cafes and restaurants which once attracted customers from far and wide are no longer as popular, now that the large chains start offering more and more options. While it might be easier, and in some cases cheaper, to just nip down to your local Greggs or KFC for a quick food fix, don't forget about the vegan business owners who were there from the start.
Even those small vegan businesses with more retail based products, selling gorgous scented perfumes, bath products, body lotions and beauty products are being threatened by some corperate giants who are beginning to label new products as vegan, despite the fact that as a company, they continue to test on animals.
They opened their business for the same reasons you've gone vegan, rather than basing their morals purely on profit. Supporting fully vegan businesses means all of your money is going towards a vegan future, rather than increasing the overall demand for a place selling animal products.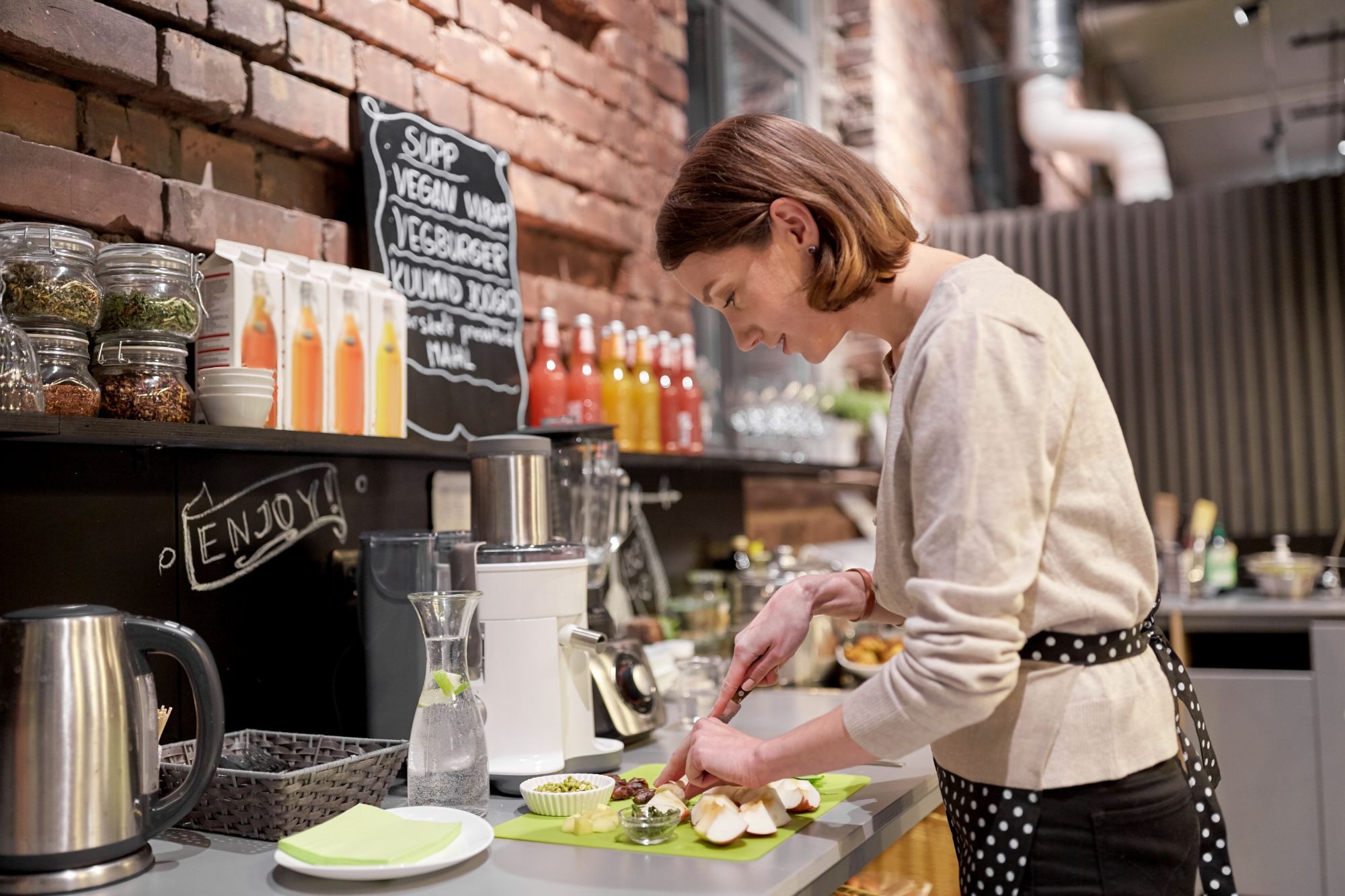 Improve Your Local Economy
This one goes for all small businesses, but is key to your local community. Rather than buying from large corporations where the money you spend is likely to travel hundreds of miles, or even to another country to sit in someone else's pocket, supporting a local business means that the money stays local to be spent again and again.
A study in Chicago found that for every $100 spent at a local business, $68 remained in their city, rather than just $43 of every $100 spent at a chain. This may partly be because small local business owners are so supportive of each other and like to use their hard earned profits to shop, renovate and source supplies from!
Try New Things and Find Hidden Gems
When you go to your local Pizza Hut, you know exactly what you're going to get. Many people even fall into the trap of having the exact same items off the menu, or buying the same products from a shop each time they go, we are creatures of habit after all.
If you're someone altogether a little more adventurous, and you don't thrive off repetitive safety food, this point is for you. Trying new foods or buying new products can be an adventure in itself, rather than just a means of gaining a physical item.
Finding new streets to go down you haven't visited before can lead you to beautiful new views, as well as hidden gems of vegan shops and restaurants. In Venice last year, my partner and I found the most beautiful vegan restaurant on a back street, surrounded by the most beautiful views, and without the hundreds of tourists you find everywhere else!
Another plus side for small restaurants is that they might have items on their menu you've never tried before, so you could even find your next favourite food!
Even if you're ordering online, you don't have to miss out on new taste buds experiences, there are many small vegan businesses which will deliver freshly made gooey brownies to your door, or these delicious cake in a mug kits to have whenever you want (what a time to be alive!).
You Can Meet Other Vegans
In a world where veganism is growing, many vegans find themselves looking around and wondering where all the others are hiding, convinced that they must be the only one in their town.
I'm so lucky, living in Brighton, UK, because vegans are everywhere. We're certainly taking over the city, one oat milk latte at a time. As a vegan originally from a small town though, I know it can be impossible to find other people who share the same views as you, and this can feel very isolating.
Finding your nearest vegan restaurant and making a trip there can allow you to meet like minded people, giving you a break from the neverending conversations about veganism you might have with omnivores.
Supporting Small Charities Who Do Big Work
Wherever you are in the country, I bet there's a local vegan animal sanctuary near you that you've probably never even heard of. Animal charities are all great, but vegan animal charities are amazing.
The people are generally all volunteers, with the sanctuary owners putting in vast amounts of time and money from their own pockets to try to make ends meet. I'm trying to compile a list of vegan animal sanctuaries and their locations, to make it easier for all vegans to find local places to support.
Visiting one of these sanctuaries makes for an amazing day out, and a great alternative to experiences non-vegans have such as petting zoos. Many of these sanctuaries have rescued animals which otherwise would have ended up on someone's plate, and many give you a chance to meet the animals face-to-face and learn all about their personality.
Some of these places have cafes, charity shops or gift shops you can support too!
You'll Get A Personal Experience
If you've ever ordered from Etsy, you'll know that 9 times out of 10 you have a far more pleasant experience than if you'd ordered from a big brand company. If you order a set of vegan bath bombs (which I definitely do more often than my bank account says i should) they'll probably come beautifully hand wrapped in tissue paper, in a nest of reusable or recyclable shredded tissue, sealed with a beautifully hand tied bow in the paper ribbon.
The same goes for restaurants and cafes, I've found that the independent places are so accommodating to specific dietary requirements, and are far friendlier and more genuine to talk to. They also tend to have beautifully decorated cafes and restaurants, full of plants and rustic furniture, so it's perfect for your instagram too!
Sometimes, part of the fun of spending money is the experience you get with it, so small businesses really are the best way to go!
Boost the Face of Veganism
The more places we can get promoting a vegan lifestyle, the better. Convincing your omni friends and family to attend your favourite vegan restaurant on your birthday gives them a chance to enjoy authentic vegan food, with no chance for them to order a side of bacon when you're not looking.
The more people who see vegan products and places, the more seeds of thought that will be planted in their head, and the more readily available independant vegan restaurants will be.
Buying products such as toiletries and clothes from independant vegan businesses as gifts for birthdays or Christmas is a great opportunity to give people a chance to try out fantastic vegan products, vegan nail varnish can be really difficult to find, but this gift set is are 100% vegan, from a small business, absolutely gorogus and fantasticly priced (we won't tell if you buy one for yourself)!
It'll Actually Be Vegan!
If you've ever been on Facebook at a time when a large corporate company releases a new product, you'll know it never goes smoothly. I've seen endless photos of people with real chicken in their vegan KFC burger, who have accidentally picked up a meat sausage roll from Greggs because the cashier misheard them, or people who are stood in the middle of boots relentlessly posting photos of ingredients lists, trying to work out what all the chemicals in their new shampoo are.
By supporting a fully vegan business, you know the product, service or food you're getting is going to be 100% vegan friendly. No cross contamination worries, no human errors, just vegan.
This is also a huge plus side if you're going to a cafe or restaurant. How often do you get to look at a menu and you can order ANYTHING off of it, no more looking for those leafy green V's anymore!
You'll Make Someone's Day!
You might not be aware of this, but every time you buy from a small business, a real person does a little happy dance. Making a successful business is expensive, time consuming and can be mentally exhausting when business is slow.
People put everything they can into their business, and this will show through the service you receive. You can feel great about spending money, so really it's a win-win situation for everyone!
With all these great reasons to support your local small vegan businesses, you can spend money, get great things, delicious food and not feel an ounce of guilt while doing it!
Now that's feel good spending!